Business Law Attorneys in Livonia
---
Starting, selling, and buying businesses are all important life decisions. You want to start these complicated processes on the best foot, which is why you need the help of an experienced business law attorney. Creighton, McLean & Shea, PLC helps business clients in Livonia, Plymouth, Canton, Northville, and cities throughout Southeast Michigan to maximize their investment. We're prepared to address all of our clients' business law needs and represent them in any disputes that arise.
We Advocate for Clarity and Knowledge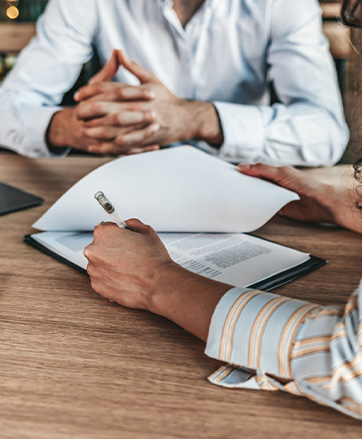 Buying or selling a business or entering into an agreement to open a small business franchise without the aid of legal counsel is a risky decision. A buy-sell agreement is a detailed and complex document that requires thorough legal examination. When you sign this document, you need to ensure that you know every detail of the purchase or sale so that you are fully aware of what it means for you.
With Creighton, McLean & Shea, PLC on your side, you will be equipped to handle every aspect of the transaction. We are here to help you understand all important aspects of business purchase and sale agreements and answer any questions that come up during the process.
At Creighton, McLean & Shea, PLC, we can help you prepare for all legal aspects of business ownership. From selecting the right business entity type to understanding employee wage laws, we can ensure that you are prepared to effectively manage your business and keep it running smoothly. Let us take the guesswork out of setting your business up for success. Call today to set up a consultation.
FAQs
What should I do if I'm selling a generational family business?
If you are selling a business that has been passed down from generation to generation, you may want to get a family business valuation to discover its true value and maximize your return.
What is succession planning?
It is important to prepare for a time when you want to eventually leave your business. Succession planning is a legal way to set a detailed plan in place to outline who will take over the operation of your business following your departure. Using the legal measure of a succession plan to choose a qualified successor will give you peace and confidence that your business is in the trusted hands of people who will respect and carry on your years of dedicated work.
How can a business avoid litigation?
The best way a business can avoid litigation is by preparing for it. It is important to establish an employment policy and draft other critical documents ahead of time. Creighton, McLean & Shea, PLC is prepared to help ensure your compliance with ever-changing laws, rules, and regulations at the state and federal levels. Our extensive experience means we are able to advise our clients on risk management and potential weaknesses before they affect your operations.